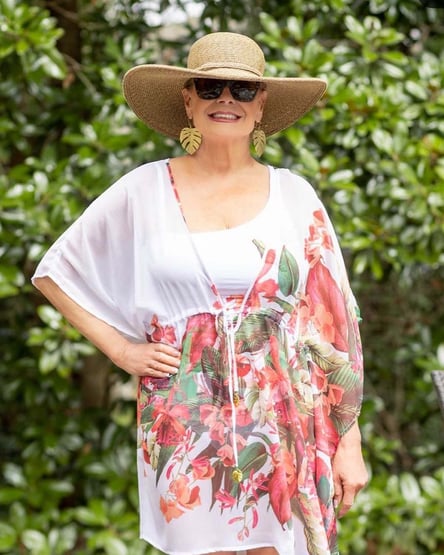 The whole point of a cover-up is to…well, COVER YOU UP! Once you've finished soaking up the sun at the beach or taking a dip in the pool, you grab your cover-up and make your way to your next destination. You'll be surprised at the number of different options there are for cover-ups. The good part about having so many options to choose from is that you can pick one that fits your style the best. If you're not sure which cover-up you're into, no worries. We'll dive into the different types and help you decide which one is perfect for you!
What's not to love about a caftan? When it's too hot outside and wearing denim isn't for you, grab your caftan. It's a lightweight dress that's loose on the body and when the wind blows, it'll definitely cool you down. Caftans are not only perfect for covering you up after a day in the sun, but it's also versatile enough to wear after all the fun. If you're looking for that WOW factor, our printed caftans will give that effect!
Oversized Shirts, Pants, and Sets.
Oversized shirts, side open pants, and pants and tops sets are also a great idea for beach cover-ups. You can style it in many different ways by rolling-up sleeves and unbuttoning for a deep neckline. Get that relaxed beachy look by buttoning just a couple of buttons at the center, so a bit of your swimsuit still sees through.
Pareos and Skirts
A Pareo is a large piece of lightweight fabric that makes excellent versatile looks. It can be wrapped around the waist and tied like a skirt or wrapped around the bust and tied like a dress. There are countless ways to wear them. Skirts are another good swimsuit cover-up option it's a go for easy on/off by choosing an elastic waistband or drawstring closure.
Cover-Up, Dress

A dress cover-up is perfect if you want to dress up a little or plan to head straight from the beach/ pool to lunch, cocktails, or early dinner!