Ever wondered why other ladies out there are slaying their perfect bodies with their bikini tops? Have you ever felt unconfident about yourself, so you decided to pair your bottom with a shirt? Are you worried about the fast-approaching summer, and you still have issues with your figure?
You have questions, and we have answers.
We all want to wear and look good with a bikini top and bottom, but we understand how it's not easy to feel confident when we have concerns about our bodies.
But how about we tell you this: it's not your body, it's your bikini.
And so, we, the Bleu Rod Beattie team, want you to feel positive about your look and decided to give you some GUIDE as you choose the bikini top that you deserve.
Let's dive in!
Bikini Tops Measurement
As part of the group of women who want to look good, we sometimes prefer to buy a bikini based on aesthetics. But how about we know first the accurate measurement of our top body so we won't end up with an unflattering bikini top.
Here are some of the basic steps to measure the two important sizes in choosing a bikini:
Underbust-

is a term used to describe the area right under your bust. Your bust must be comfortable with your underbust band. To measure the underbust width and bust circumference, you can place the tape around your bust and measure in inches. After which, you can round it off to the nearest whole number.
Cupsize-

is the difference between your bust and underbust. To measure this, wrap the tape around the thickest part of your chest, and determine the difference between the bust and underbust. One inch difference is equal to one cup size. Let's say your bust is 34 and your underbust is 32, which means your cup size is B.
However, there are two things you need to consider when choosing the cups of a bikini top:
Increase one cup size

(same underbust size)

if the underwire digs into your breasts.

Increase one cup size (same underbust size) if your underbust band is standing off from your body.
Adjustable Straps
Imagine being in front of the beach, and your strap suddenly fell. It does not just spoil the moment. It is also embarrassing.
Why would you wear a bikini strap that doesn't fit you well? It's a common problem—having bra straps that keep on falling. But it's totally solvable. All you need are adjustable straps, so your bikini top stays in place. And when we say in place, not too tight and not too loose. With these straps, you'll feel more comfortable about not embarrassing yourself when all you ever want is to slay your summer (or vacation).
Problem solved?
No, not yet. There are also reasons why the bikini strap keeps falling—it's either because of your band, your cup size, or both. We don't want this moment to pass without sharing these tips with you:
When purchasing a bikini top, knowing the right bra band for your body saves you from discomfort. Your band rides up on your back when it's too loose, and the straps can't stay in place since there's too much movement. Adjust the tightness on your straps so two fingers can fit snuggly between the straps and your shoulder. If you can easily wiggle your fingers, it's on the loose side. If you can't squeeze them below, it's too little. That's how simple it is.
When using a bra, your bra cup must fit well. If not, this could slide out on the top, sides, bottom, or all of the above. And we know you don't want that to happen. When you allow holes to your bikini top, a simple movement may mean sliding.
Admit it. Strap placement is not just for its functions. Not just for sizing and the wonderfully scaling ratios for our body, it's also for style. A triangle and a halter bikini top will move the breast tissue in different ways, which will force the support straps in opposite directions- which could result in one pushed-up breast and one fallen soldier. And that doesn't look pretty good.
For example, an underwire D Cup bikini top that doesn't adequately fit your breast (check our fit page for a measurement guide) may create gaps on the top.
That's it!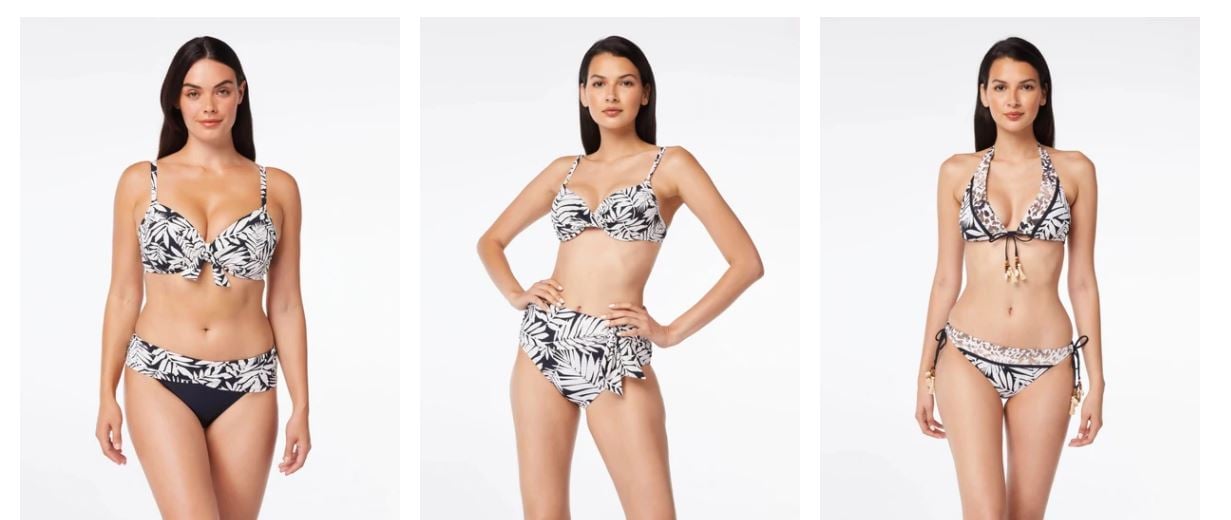 We hope you learned from us today as you choose the perfect bikini top that suits you.
Here at Blue Rod Beattie, we want you to ramp and slay your bikini so you can be classy, sexy, and comfy. We will assist you as you choose from our wide selection of Bikini Tops, B/C cups from 33- 40 cm, and D cups in the same range with different style options from a Halter/ Triangle to Tankinis that you can choose from.
Reach out to us and comment below if you have something to add or say from this post. Thank you for visiting Blue|Rod Beattie, and remember to expect something beautiful.
Let's go ramp and slay that bikini!